CNC lathe machining center Doosan Puma 2600LM
02.04.2013 08:16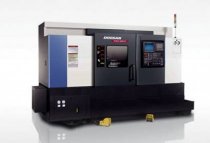 Procurement of High Precision CNC lathe machining center Doosan Puma 2600LM besides increasing the capacity, provides conditions to reduce delivery time.
Continuous investment in new technologies guarantee a high-quality, precision and innovation of our products.
Doosan Puma 2600 LM 3-axis lathe with the possibility of milling. Fanuc control, development and control of processing and verification tool path using ManualGuides is characterized by high stability and performance.